Page 1 of 3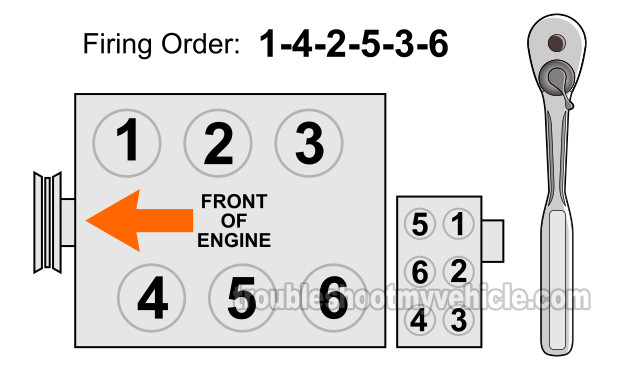 Here you'll find the essential specifications for the 1996-1999 3.0L Ford Taurus (1996-1999 3.0L Mercury Sable).
NOTE: The specifications in this web page apply only to the 3.0L OHV V6 Ford Taurus and Mercury Sable. These specifications do not apply to the 3.0L DOHC V6 engine.
Contents of this tutorial:

You can find this tutorial in Spanish here: Especificaciones De Afinación y Del Motor 1996-1999 3.0L OHV Ford Taurus (at: autotecnico-online.com).
How To Identify The 3.0L V6 Engine
The 1996-1999 3.0L V6 Ford Taurus comes equipped with 1 of 4 different 3.0L V6 engines. The key to knowing which 3.0L your Ford Taurus comes equipped with is checking the 8th digit of the VIN:
| V.I.N. | Motor | Type | FFV |
| --- | --- | --- | --- |
| 1 | 3.0L | OHV | ✔ |
| 2 | 3.0L | OHV | ✔ |
| S | 3.0L | DOHC | |
| U | 3.0L | OHV | |
FFV -Flex Fuel Vehicle.
DOHC -Double Overhead Camshaft. This is the 24 valve 3.0L V6. Also, each cylinder head is equipped with two camshafts.
OHV -Over Head Valve. This is the 12 valve 3.0L and has the camshaft in the engine block.
VIN -Vehicle Identification Number.
Ignition System Specifications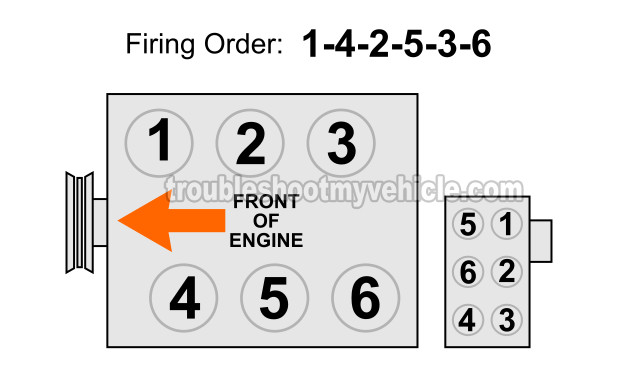 The 1996 model year saw the 3.0L V6 Ford Taurus equipped with a distributor-less ignition system.
Spark Plug Wire Resistance Specification
30 K Ohms max for each cable (above 30 K Ohms and the cable is defective).
Spark Plug Gap
0.042-0.046 inches (1.07-1.17 MM).
Base Ignition Timing
Non ajustable.
OE Spark Plug
Motorcraft AWSF-32PP (OE)
Motorcraft SP432 (equivalent to AWSF-32PP)
Testing the ignition coil pack on the 3.0L Ford Taurus is not difficult. The following tutorial will help you test this type of ignition system: How To Test The Coil Pack (Ford 3.0L, 3.8L, 4.0L, 4.2L) (at: easyautodiagnostics.com).
Fuel System Specifications
The electronic fuel injection system on the 1996-1999 3.0L Ford Taurus (Mercury Sable) is the EEC-V. The EEC-V fuel injection computer has 104 terminal.
The electric fuel pump is located inside the fuel tank.
Fuel Pressure With The Key On Engine Off
37-43 PSI (2.5-2.9 Kg/cm²).
Fuel Pressure With The Key On Engine Running
26-45 PSI (1.8-3.2 Kg/cm²).
Fuel Injector Resistance
11-18 Ohms (individual resistance).
Location Of The Fuel Pump Inertia Switch
Inside the trunk and on the passenger side.