Page 1 of 3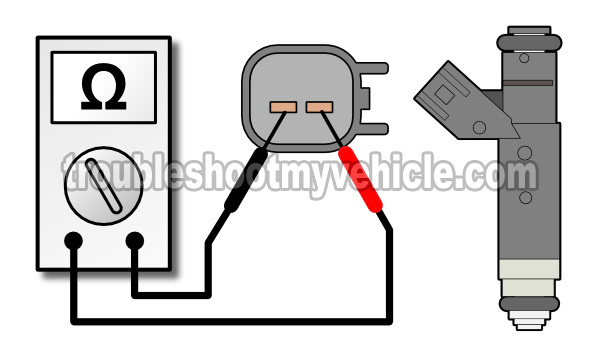 In this this tutorial, I'll show you one of the ways to test for a bad fuel injector by doing a fuel injector resistance test.
Since the 4.7L V8 engine is equipped with 8 fuel injectors, I'll also show you a specific diagnostic strategy you can use to find the clogged or bad fuel injectors.
Contents of this tutorial:
Symptoms Of A Bad Fuel Injector
The three most common ways that a fuel injector fails are:
The fuel injector fries internally and won't spray any fuel.
The fuel injector gets clogged with deposits and won't spray enough fuel or in the proper spray pattern.
The fuel injector doesn't activate (spray) because it's missing power or it's switching signal and won't inject fuel at all.
No matter what the root cause, a bad fuel injector will cause the engine to idle rough and miss when you accelerate it down the road.
What throws a 'wrench into the works', is that the PCM won't always set a specific fuel injector trouble code. But if it does, you'll see one of the following:
P0201: Injector #1 Control Circuit.
P0202: Injector #2 Control Circuit.
P0203: Injector #3 Control Circuit.
P0204: Injector #4 Control Circuit.
P0205: Injector #5 Control Circuit.
P0206: Injector #6 Control Circuit.
P0207: Injector #7 Control Circuit.
P0208: Injector #8 Control Circuit.
From personal experience, I can tell you that around 90% of the time, when you do have a bad fuel injector, you'll see a misfire trouble code:
P0301: Cylinder #1 Misfire.
P0302: Cylinder #2 Misfire.
P0303: Cylinder #3 Misfire.
P0304: Cylinder #4 Misfire.
P0305: Cylinder #5 Misfire.
P0306: Cylinder #6 Misfire.
P0307: Cylinder #7 Misfire.
P0308: Cylinder #8 Misfire.
And well, the other symptoms your vehicle may experience are:
Lack of power.
Bad gas mileage.
Check engine light (CEL) is on.
What Tools Do I Need To Test The Fuel Injectors?
To do a fuel injector resistance test, you don't need a whole lot of stuff, since the most important tool you'll need is a multimeter (which can either be an analog multimeter or a digital multimeter).
Here's a basic list of tools you'll need:
A multimeter.
Scan tool.

To actually test the fuel injectors, you don't need a scan tool (since a scan tool can't dynamically test the fuel injectors). But, having one makes the whole process easier since you're able to retrieve any diagnostic trouble codes (DTCs) stored in the PCM memory.
Don't have one? Check out my recommendation: Abe's Scan Tool Recommendation.

Pen and Paper to write down your fuel injector resistance test results.