Page 1 of 3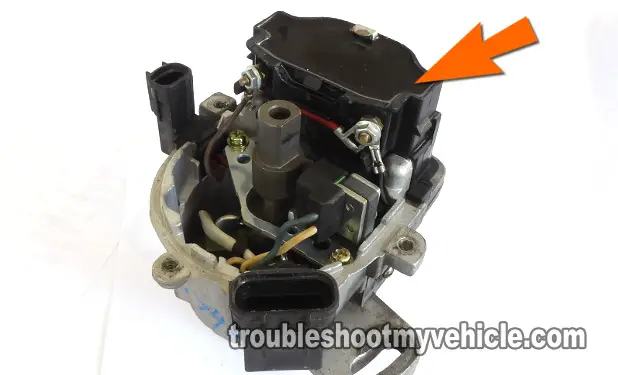 When the ignition coil fails inside the distributor, your 1992-1995 2.2L Toyota Camry is not gonna' start.
The cool thing is that, even though the 2.2L Toyota Camry's ignition coil is inside the distributor, testing it is not hard and can by easily done with a few simple tools.
In this tutorial I'll explain how to test it, all in plain English and in a step-by-step way.

You can find this tutorial in Spanish here: Cómo Probar La Bobina De Encendido 1992-1995 2.2L Toyota Camry (at: autotecnico-online.com).
Ignition Coil Circuit Descriptions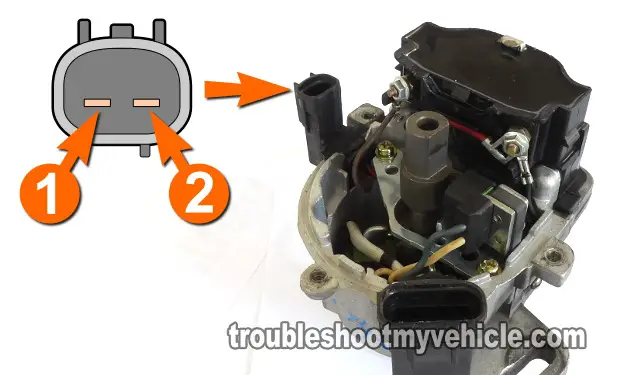 The distributor, on your 2.2L Toyota Camry, has two connectors. One connector has 4 terminals and the other has 2.
The connector that we're gonna' worry about, in this tutorial, is the one with 2 terminals.
To further help you in your diagnostic tests, you can find the 1992-1995 2.2L Toyota Camry ignition system wiring diagram here: Ignition System Wiring Diagram 1994 2.2L Toyota Camry.
Here's a brief description of each terminal:
1992-1995 Ignition Coil Connector
Pin
Wire Color
Description
1
Black with red stripe
IGC -Ignition coil control signal
2
White with red stripe
Power -Ignition coil battery power
Where To Buy The Ignition Coil
Yup, this bad boy is very expensive. Check out the following links and comparison shop:
TEST 1:

Testing For Spark At All 4 Cylinders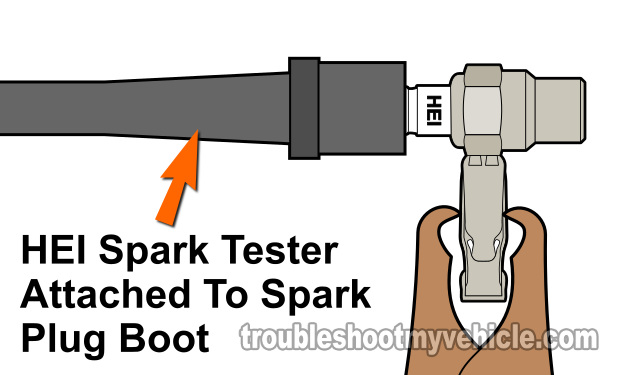 The most important first thing that you need to do, to diagnose a bad ignition coil, is to check for spark at all four spark plug wires.
If even one spark plug wire is sparking (when you crank the engine), then you can conclude that the ignition coil is OK and not behind your 2.2L Toyota Camry not starting.
So, to be a bit more specific, the test result we want to see is that there IS NO spark at any of the spark plug wires.
To get an accurate result, I recommend that you use a dedicated spark tester for this test. If you can, I suggest using an HEI spark tester. You can find out more about it (and where to buy it) here: HEI Spark Tester (at: easyautodiagnostics.com).
Alright, let's get started:
1

Connect your spark tester to spark plug wire for cylinder #1.

Ground the spark tester using a battery jump start cable to the battery negative (-) post.

2

Have a helper crank the engine while you observe the spark tester from a safe distance.

3

The spark tester should spark when the engine is cranking.

4

Repeat the above 3 steps on the remaining cylinders.
Let's take a look at what your test results mean:
CASE 1: All 4 cylinders have spark. This test result tells you that the ignition is working and not defective.
CASE 2: No spark on all 4 cylinders. The next step is to make sure that the ignition coil is getting battery power. For this test go to: TEST 2: Making Sure The Ignition Coil Is Getting Power.
CASE 3: No spark on some but not all cylinders. This tells you that the ignition coil is working and not defective.
This test result also tells you that either the spark plug wires or the distributor cap is defective.