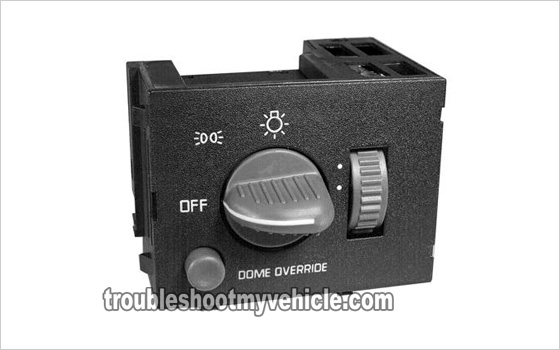 This tutorial will help you to test a bad headlight switch in step-by-step manner. Specifically, you'll be able to troubleshoot a 'no head lights' or a 'no park lights' problem to the head light switch.
Testing the headlight switch (which GM calls the headlamp switch) is a very easy affair and can be done with a multimeter and I'll show you how.
Before I continue, I want to let you know that there's one more article that may help you. This article deals with testing the low-high beam headlight dimmer switch and will help you test a 'no low beams' or a 'no high beams' problem and you can find it here: How To Test The Low-High Beam Headlight Dimmer Switch.
To help you make sure this article applies to your specific Chevrolet or GMC pickup, van, mini-van or SUV, this article will help you test the following headlight switch part #'s:
AC Delco Part # D1530F.
AC Delco Part # D1523H.
AirTex, Wells Part # 1S1356.
Standard Motor Products Part # DS876.
Standard Motor Products Part # DS876T.
OEM (Original Engine Management) Part # HLS31.
If this headlight switch tutorial does not apply to your GM pickup or SUV, there's one more headlight switch tutorial for 1994 and older GM pickups that you can find here: How To Test The Headlight Switch (GM 1990-1994).
Symptoms Of A Bad Headlight Switch
The most common and the most obvious symptom of a bad headlight switch is that the headlights (headlamps) will not work. You'll also see:
Park lights do not come ON.
instrument cluster illumination does not work.
With the help of this 'how to test' tutorial, you'll be able to say without a doubt that either the headlamp dimmer switch is bad or not.
Since the headlight switch is part of a much larger system, if the test results confirm the headlight switch is OK, then you can avoid having to waste time and money replacing it.
What Tools Do I Need To Test The Headlight Switch?
The cool thing is, is that you don't need any expensive tools to check the headlight switch yourself.
Here's a basic list of tools you'll need:
Multimeter.
A jumper wire.

Ideally, this jumper wire should have an inline fuse attached to it.
Now, a fused jumper is not necessary since you can use a regular wire as a jumper wire.

Wire piercing probe.

Although this tool is not an absolute must, if you do buy one, you'll realize just how easy it makes testing the voltages inside the wires.
If you need to see what this tool looks like, you can see it here: Wire Piercing Probe.
As you can see from the list above, it's nothing that's gonna' break the bank.
Where To Buy The Headlight Switch And Save
You can find the headlight switch in any auto parts store. If you're wanting the buy the original AC Delco headlight switch, you can buy it online for a whole lot cheaper than somewhere local.
The following links will help you comparison shop for the AC Delco and after market headlight switches:
Will the above headlight switch fit your particular GM pickup? Don't worry, once you get to the site they'll make sure it fits (by asking you the specifics of your particular vehicle). If it doesn't fit, they'll find you the right one.
Circuit Descriptions Of The Headlight Switch Connector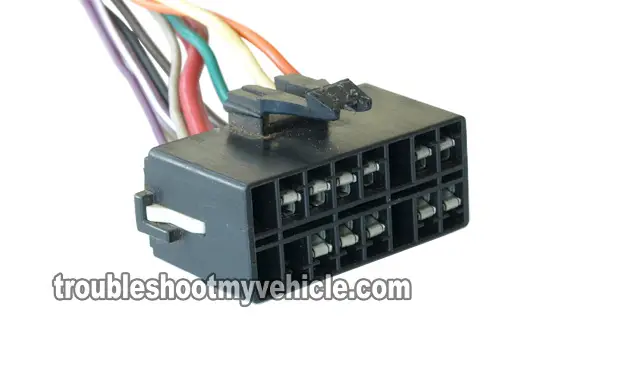 The headlamp dimmer switch has a total of 11 wires (circuits) sticking out of its connector.
Each one has a specific job to do but don't worry, we don't have to test them all to find out why the headlamps (or park lamps) are not working.
If you look closely at the headlight switch connector, you'll see that the letters A-H are molded on the top row, and that letters J-S are molded onto the bottom row. I'll be using these same letters for the circuit descriptions.
These are the circuit descriptions of the headlight and dimmer switch
Headlight Dimmer Switch Pin outs
Pin
Wire Color
Description
B
Gray
Courtesy Lamp
C
Red
Battery Fused Feed
D
Pink
Ignition Fused Feed
E
Dark Green
Instrument Panel Lamps Dimmer Switch
G
Yellow
Headlamp Switch Output
H
Orange
Battery Fused Feed
L
Purple
Interior Lamp Defeat Switch
M
White
Courtesy Lamp
N
Purple w/ White Stripe
LED Dimming Signal
R
Black
Ground
S
Brown
Park Lamp Feed