Page 1 of 3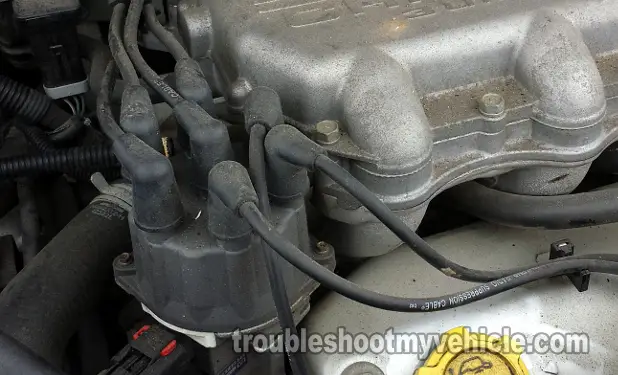 Testing the camshaft position sensor (which is located inside the distributor), on the 1996 through 2000 3.0L V6 equipped Chrysler, Dodge and Plymouth minivans is a piece of cake.
In this tutorial I am going to show you how to do it using a multimeter and in a step by step manner. With the results of this test, you'll be able to find out if it's defective or not.
Symptoms Of A Bad Camshaft Position Sensor
The camshaft position sensor is located inside the distributor. What sucks about this setup is that the camshaft position sensor isn't sold separately. So when the cam sensor goes bad you have to replace the entire distributor assembly.
Trouble code P0340 No Camshaft Position Signal stored in the PCM's memory.
Engine cranks but does not start.
Engine starts but stalls.
Circuit Descriptions Of The Camshaft Position Sensor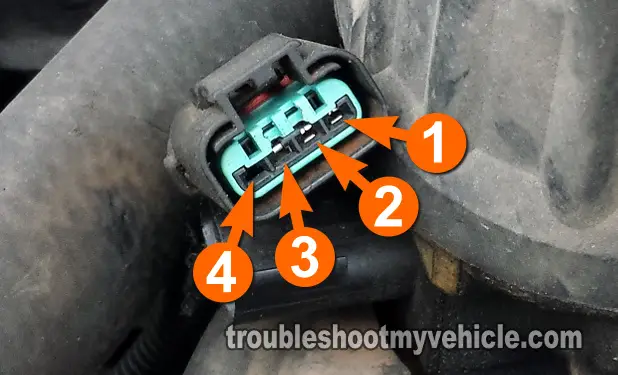 Cam sensor is a hall effect sensor. This means that it'll have 3 wires sticking out of its connector. Two of those three wires supply the cam sensor with power and Ground. The third wire is the one that transmits the cam position signal to the fuel injection computer.
Below is a brief description of the three wires that connect to the camshaft position sensor.
Camshaft Position Sensor Connector
Pin
Wire Color
Description
1
Black with light blue stripe
Sensor ground
2
Orange
Power (5 or 8 Volts DC)
3
Tan with yellow stripe
Cam Position Signal
4
Empty
Where To Buy The Distributor
Since the camshaft position sensor is inside the distributor, you have to replace the entire unit to solve the problem. Check out the following links and compare, I think you'll save a few bucks:
TEST 1:

Making Sure The Distributor Rotor Is Turning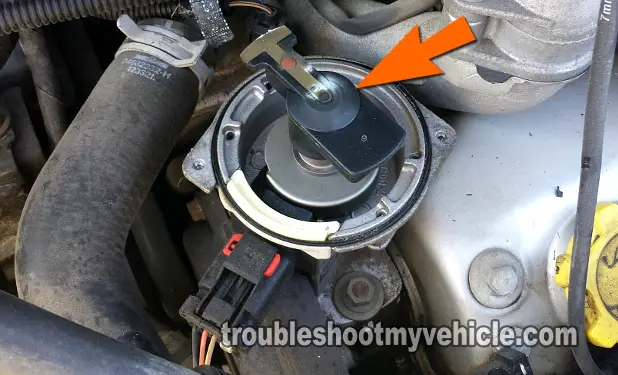 The very first thing that we're going to do is make sure that the distributor rotor is turning when the engine is being cranked with the starter motor.
Alright, let's get started:
1

Disconnect the ignition coil from its electrical connector. This is a very important safety precaution!

2

Remove the distributor cap to expose the distributor rotor.

3

Have a helper crank the engine while you observe the distributor rotor. The distributor rotor should turn as the engine is being cranked.
Let's take a look at what your test results mean:
CASE 1: The distributor rotor turned as the engine was cranked. This is the correct and expected test result. The next step is to make sure the camshaft position sensor is getting power. For this test step, go to: TEST 2: Making Sure The Cam Sensor Has Power
CASE 2: The distributor rotor DID NOT turn as the engine was cranked. This test result tells you that the timing belt is busted and is the reason behind the P0340 trouble code and the engine not starting.