1996 PCM WHITE Connector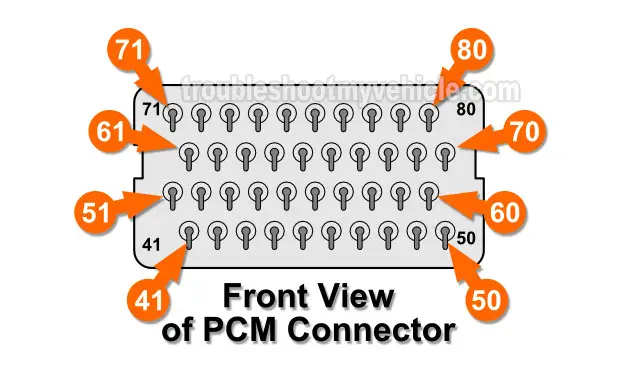 IMPORTANT: The following pin out chart applies only to the 1996 Dodge/Plymouth Neon 2.0L.
WHITE PCM 32 Pin Connector
Pin
Wire Color
Description
41
RED/LT GRN
Cruise Control Switch Signal
42
---
Not Used
43
BLK/LT BLU
Sensor Ground
44
ORG
8 Volt Supply
45
WHT
Power Steering Pressure Switch
46
RED/WHT
Battery Fused Power
47
BLK/WHT
Ground
48
BRN/WHT
Idle Air Control (IAC) Driver "3"
49
YEL/BLK
Idle Air Control (IAC) Driver "2"
50
BLK/TAN
Ground
51
TAN/WHT
Rear Oxygen Sensor Signal
52
VIO/LT GRN
Ambient Temp Sensor Signal
53
---
Not Used
54
---
Not Used
55
DK BLU/PNK
Radiator Fan Control Relay
56
TAN/BLK
GEN Lamp Driver
57
GRY/RED
Idle Air Control (IAC) Driver "1"
58
VIO
Idle Air Control (IAC) Driver "4"
59
---
Not Used
60
---
Not Used
61
VIO/WHT
5 Volt Sensor Supply
62
WHT/PNK
Stop Lamp Sense
63
---
Not Used
64
DK BLU/ORG
A/C Compressor Relay Control
65
PNK
SCI Transmit
66
WHT/ORG
Vehicle Speed Sensor (VSS) Signal
67
DK BLU/YEL
Auto Shutdown Relay (ASD) Control
68
PNK/BLK
Duty Cycle EVAP/Purge Solenoid Control
69
---
Not Used
70
---
Not Used
71
---
Not Used
72
ORG
Vapor Canister Driver
73
GRY/LT BLU
Tachometer Signal
74
BRN
Fuel Pump Relay Control
75
LT GRN
SCI Receive
76
BRN/YEL
Park/Neutral Position (PNP) Switch Sense
77
WHT/LT GRN
Vapor Canister Solenoid
78
TAN/RED
Cruise Control Vacuum Solenoid
79
ORG/BLK
TCC Solenoid Control
80
LT GRN/RED
Cruise Control Vent
Safety Precautions
Here are some very important safety precautions when testing the wires coming out of the PCM connectors.
If one or any of the wires on your Dodge/Plymouth Neon DO NOT match the color stated in the pin out charts, then you should not use the pin out charts in this article. Why? Because this is the clearest indication that these ARE NOT the connector pin out charts for your particular vehicle.
Never probe the front of the connector.

You should use a wire piercing probe and probe the wire a few inches away from the connector.
You should use a back probe.

Read the Disclaimer.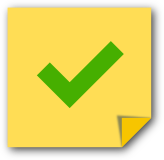 If this info saved the day, buy me a beer!