Page 1 of 2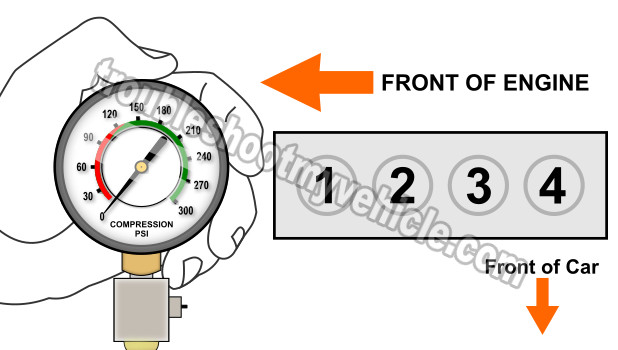 If you've been wondering what's involved in testing and interpreting an engine compression test on your 1.6L Toyota Corolla (1.6L Geo Prizm), then this is the tutorial you need.
Testing the engine compression on your 4 cylinder Corolla (Prizm) is a pretty easy affair due to the fact that the spark plugs are easily accessible (since they have to be removed for the test).
In this tutorial, I'll show you how to troubleshoot a low engine compression problem causing a rough idle or a no-start condition.
Contents of this tutorial:
Important Tips And Suggestions
TIP 1: If the engine in your 1.6L equipped Corolla (Prizm) starts and runs you should test the cylinders' compression with a slightly warmed up engine. I want to stress the words: slightly warmed up because the engine SHOULD NOT be hot.
Testing the cylinders' compression with a slightly warmed up engine will ensure the accuracy of your engine compression test results.
TIP 2: You'll be working around a cranking engine as you perform the engine compression test so take all necessary safety precautions. Please use common sense and think safety all of the time.
TIP 3: All of the spark plugs need to be removed from the engine for the compression test and this must never be done with a hot engine.
Why? The spark plug threads in the cylinder head can easily get damaged (as in getting stripped) and this is a nightmare you do not want to experience.
Which Compression Tester Should I Buy?
There are lot of engine compression testers to choose from and many places to buy them. I'm gonna' make two recommendations to you:
1) Which one to buy:  The engine compression tester that I have always used is the Actron CP7827 Compression Tester Kit. My only complaint about this engine compression tester is that it does not come with a case to store it in.
Engine Compression Gauge Testers

2) Where to buy:  You can buy an engine compression tester just about anywhere, but you'll end up paying more for it (especially at your local auto parts store). The above links will help you comparison shop. I think you'll agree it's the better way to save money on the compression tester!
TEST 1:

Dry Compression Test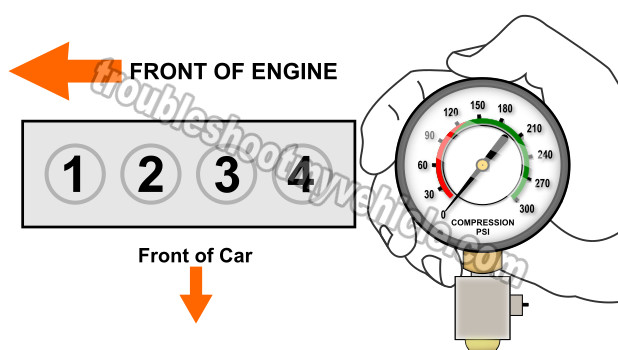 The compression tests, in this tutorial, are divided into two parts. One is a 'dry' compression test and the other is a 'wet' compression test.
The difference being that the 'wet' compression test is done after finding one (or more/all) cylinders with no or low engine compression.
NOTE: Before you remove the spark plugs, mark each spark plug wire's location. This will make it easier to put them back in their proper places a whole lot faster.
OK, to get started this is what you'll need to do:
1

Disable the fuel system by removing the fuel pump fuse. Disabling the fuel system will prevent fuel from being injected into each cylinder when the Test is performed.

2

Disable the ignition system by disconnecting the distributor from its electrical connector(s).

3

Thread the engine compression gauge into the spark plug hole for the number 1 engine cylinder.

Hand tighten the compression gauge only! Do not use any type of tool to get it tight.

4

Have your helper crank the engine till the needle on the compression gauge stops climbing.

5

Now, record on paper the value at which the needle stopped and the number of the engine cylinder on a piece of paper.

6

Release the pressure on the gauge and test the cylinder's compression one more time.

7

Test the compression on the remaining 3 cylinders.
Let's take a look at what your test results mean:
CASE 1: 0 PSI on all 4 cylinders. This is bad and it tells your that you have one of the following problems:
Timing belt problem.
Blown head gasket.
Blown engine.
Any compression value below 100 PSI (even if it does not 0 PSI) means internal mechanical engine trouble.
CASE 2: Low compression in one or more cylinders. Up to a certain point, these low compression values will not cause a problem.
But if they are too low, then you'll have a misfire problem or a rough idle problem. To find out, go to: Interpreting Your Compression Test Results.