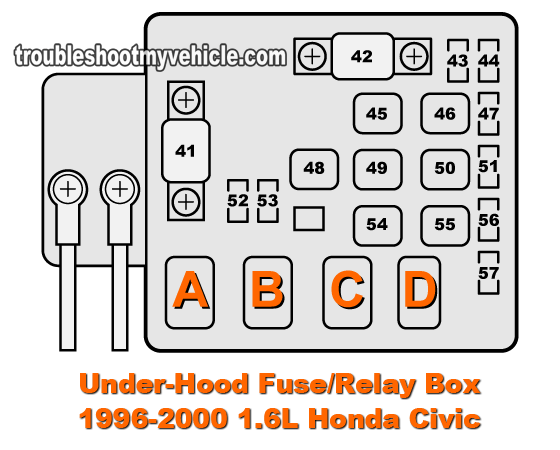 In the table below you'll find the location and description of the fuses of the under-hood fuse box on the 1.6L 1996-2000 Honda DX, EX, and LX.
The fuse box is located on the passenger side of the engine compartment next to the strut tower.
NOTE: For the fuse descriptions of the under-dash fuse box, go here: Under-Dash Fuse/Relay Box (1996-2000 1.6L Honda Civic).
1996-2000 Civic EX, DX, LX Under-Hood Fuses
Fuse
Fuse Name
Amps
41
Battery (Power Distribution)
80
42
IG1 (Ignition Switch)
40
43
Interior Light
7.5
44
FI E/M (PGM Main Relay)
15
45
Not Used
-
46
Power Window
40
47
Back Up (Radio 96-98)
7.5
48
Headlights
30
49
Not Used
-
50
Rear Defroster
30
51
Door Lock Unit, Roof
20
52
Horn, Stop Lights
15
53
Hazard
10
54
Option (Security System)
40
55
Heater Motor (Blower Motor Relay)
40
56
Condenser Fan, AC Clutch
20
57
Cooling Fan
20
1996-2000 Civic EX, DX, LX Under-Hood Box Relays
Relay
Relay Name
A
Condenser Fan Relay
B
A/C Compressor Clutch Relay
C
Radiator Fan Relay
D
Blower Motor Relay