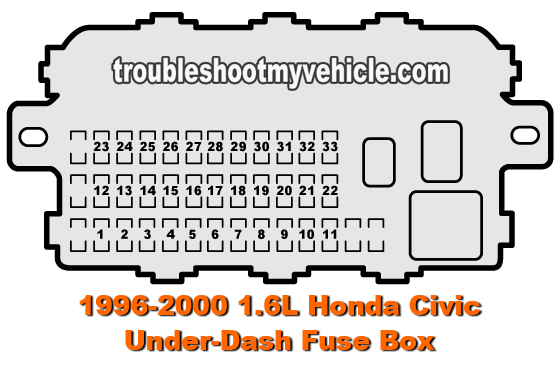 In the table below you'll find the fuse location and description of the fuses of the under-dash fuse box on the 1.6L 1996-2000 Honda DX, EX, and LX.
The fuse box is located on the driver side of the dash, below the steering column.
NOTE: For the fuse descriptions of the under-hood fuse box, go here: Under-Hood Fuse/Relay Box (1996-2000 1.6L Honda Civic).
1996-2000 Civic EX, DX, LX Under-Dash Fuses
Fuse
Fuse Name
Amps
1
Not Used
-
2
Not Used
-
3
Rear Wiper, Rear Washer
10
4
Right Headligh High Beam
10
5
Left Headlight High Beam
10
6
-
-
7
Power Window Rear Left (Driver Side)
20
8
Power Window Rear Right (Passenger Side)
20
9
Ignition Coil
15
10
Power Window Front Right (Passenger Side)
20
11
Power Window Front Left (Driver Side)
20
12
Turn Lights (Hazard Warning Switch)
7.5
13
Fuel Pump (SRS Unit)
15
14
Cruise Control, Keyless (99-00), Radio (96-98 LX, EX, HX)
7.5
15
Alternator, SP Sensor
7.5
16
Rear Window Defogger (96-98), ABS Control Unit, Power Mirror (99-00)
7.5
17
Heater A/C Relay, Power Mirrors (96-98)
7.5
18
Running Light Relay (Canada)
7.5
19
Back-up Lights
7.5
20
Running Light (Canada)
7.5
21
Right Headlight Low Beam
10
22
Left Headlight Low Beam
10
23
SRS
10
24
Power Window Relay, Moonroof
7.5
25
Meter (Integrated Control Unit, Interlock Sys., Gauges
7.5
26
Front Wiper, Front Washer
20
27
Cigarette Lighter (ACC Socket)
10
28
Radio Clock
10
29
Not Used
-
30
Instrument Lights
7.5
31
Starter Signal
7.5
32
License Plate Lights, Tail Lights
7.5
33
Interlock Unit
7.5