Before You Remove The Trans. Oil Pan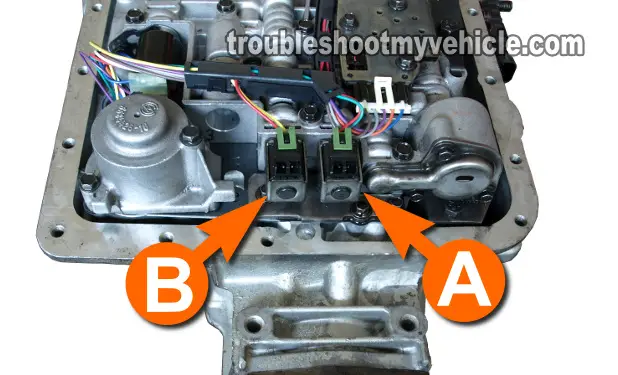 Replacing the shift solenoids (A and B) is not that hard to do. It does involve removing the transmission oil pan and this is where you have to take certain precautions like possibly reusing the same transmission fluid you need to drain out.
Reuse the old transmission fluid you're gonna' drain? Why?
I know it sounds very counterintuitive, so I'll explain why: Basically, there are three very important reasons why you should consider doing this:
If you have been running your transmission in LIMP IN MODE for several days or weeks (in case you're wondering what the heck is LIMP IN MODE, this is when the PCM (Fuel Injection Computer) commands the transmission to run in 2nd gear only, no matter what the vehicle speed).
If your vehicle has a lot of miles on it.
Your vehicle's transmission was already slipping before it went into LIMP IN MODE.
If the above conditions apply to you, then I suggest that you reuse the old transmission fluid, since this may save you from having your transmission not work after you're done replacing the shift solenoids.
In the next couple of paragraphs I'll go into more specific details and explain why this may be important in your situation.
The Sediment At The Bottom Of Transmission Pan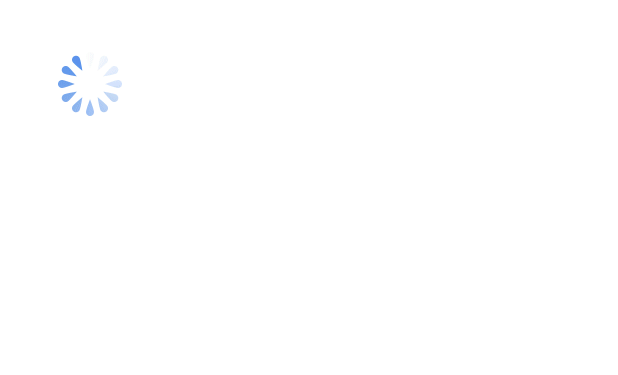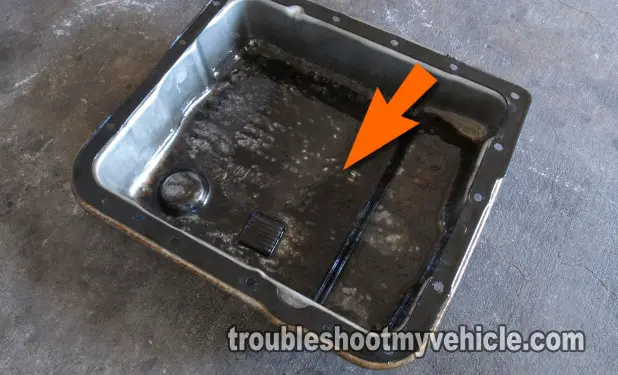 When removing the transmission fluid pan and seeing it full of sediment (and in some cases this sediment is mixed with a lot of metal shavings), your first instinct may be to wipe it clean.
CASE 1: No metal shavings, just sediment: If this is the case in your particular transmission, this tells you that a lot of friction material has fallen of the clutch packs.
It's this friction material that the clutch packs use to lock into one another and transmit the power from one end of the transmission to the other.
Just like in a standard transmission's clutch disc, when this friction material falls off, your automatic 4L60-E transmission will slip.
If your transmission is not slipping yet and you do find a lot of this friction material in the pan, then it's best to not clean it off and it's best to reuse the transmission fluid you just drained.
If your transmission is slipping, then you definitely better not clean this material off of the transmission pan and definitely reuse the old transmission fluid.
CASE 2: Metal shavings with sediment: This is bad and tells you that there is definite internal transmission damage. Specifically, you have an internal metal hard part that has cracked and/or broken.
If this condition applies to you AND the transmission is slipping, then replacing the solenoids is not gonna' help at all. You need a transmission overhaul or a transmission replacement.
In either scenario (CASE 1 or CASE 2), you have to keep two very important things in mind:
Although not cleaning the pan and reusing the transmission fluid will keep your transmission shifting, it doesn't change the fact that your transmission has

severe wear and tear

.
The sediment (friction disk material on the pan) is the 'writing on the wall' that your transmission will eventually start slipping (more sooner rather than much later) -if it isn't already slipping- and that a transmission replacement or overhaul is around the corner.
I offer this advice only as a guideline. You don't have to do it.
Keeping the friction material at the bottom of the pan ensures that some of it will still be floating in the fluid after you're done replacing the shift solenoids (just like before your intervention) and helping the clutch discs function.
Two Important Suggestions
OK, in conclusion to this section of the article, I suggest that before you remove the transmission oil pan you:
1

Clean the edges of the transmission oil pan before removing it (from the transmission) with carburetor cleaner spray (or brake clean spray). The idea here is to remove all traces of dirt and big particles that could fall into the drain pan (you're using to catch the old trans. fluid) as you're removing the trans. fluid pan.

2

Your drain pan should be absolutely clean. So, if you have been using this drain pan for your engine oil changes or for anything else, clean this bad boy thoroughly.
The above two suggestions will ensure that the old transmission fluid will stay clean, in case you need to re-use it.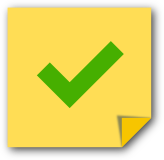 If this info saved the day, buy me a beer!