Important Test Precautions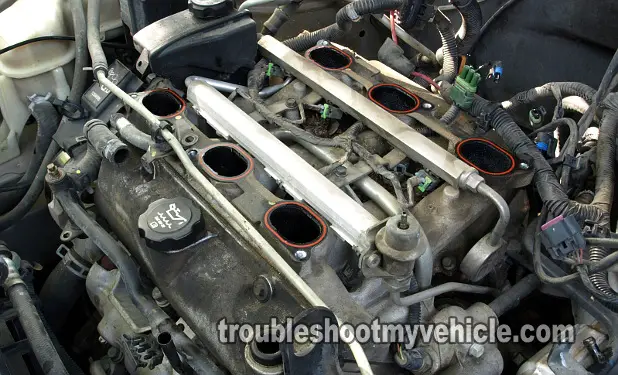 The fuel injector resistance test is one of the easiest tests to accomplish (after the upper intake manifold plenum has been removed) if you follow some very important precautions:
1

Disconnect the battery negative terminal from the battery. This is to prevent the accidental cranking of the engine.

2

As you're removing the upper intake manifold plenum, do not place bolts or nuts or washers any where near the immediate work area. Place all removed parts (like nuts, bolts, brackets, etc) in a container that is not placed under the hood. If a bolt or nut or washer or any other piece of metal falls into an open lower intake manifold port, then you may have to remove the cylinder head to retrieve it.

3

Once the upper intake manifold plenum is removed, place CLEAN rags into the 6 open ports of the lower intake manifold. This will prevent any foreign material (parts, nuts, bolts, etc) from falling into them.

4

Do not re-use the intake manifold plenum gaskets. When installing the new ones, DO NOT coat them in any type of sealant or gasket glue. There's no need to use these products on the new gaskets, if anything else, these sealants will create vacuum leaks.
Which Fuel Injector Do I Test First? Or Do I Test All Of Them?
Since there's quite a bit of work involved in reaching the 6 fuel injectors (under the upper intake manifold's plenum), it's best to test them all. Not only that, but by testing them all, you'll have a clear idea of what the normal average resistance value should be for all 6 fuel injectors.
This is the reason why: All fuel injectors have a specific internal resistance that can be measured in Ohms mode on a multimeter. When a fuel injector goes bad, it'll normally have a completely different resistance value than the other ones.
Therefore, the purpose of the test is to find the bad fuel injector by reading its resistance and comparing this reading to at least two other fuel injectors. And since no specific resistance specification is given to compare against, it's important to test them all to find out the average resistance value of them.
A Fuel Injector Troubleshooting Strategy
Diagnosing a bad fuel injector in the 3.1L and 3.4L GM engines can be a challenge since you need to remove the intake manifold's plenum to resistance test them. So, in this section, I'm gonna' offer you my fuel injector troubleshooting strategy so that you can get to the bottom of the problem without wasting time and money.
These are the steps I take:
Find the 'dead' cylinder first. This is the most important step of all!

Normally, this can be accomplished by simply checking for the misfire codes. Unfortunately, the PCM doesn't always set a specific bad fuel injector code, but when a fuel injector does go bad, you WILL see a misfire code.
If no misfire codes and/or your vehicle is not OBD II equipped (and thus no misfire diagnostics), then it's important to do a manual cylinder balance test.

You can find the manual cylinder balance test tutorial here: Cylinder Balance Test (GM 3.1L, 3.4L).

The next step is to make sure that the 'dead' cylinder is getting spark (and thus eliminate the ignition system as the source of the problem).

I want to emphasize this to you: It's very important to eliminate the ignition system from the get-go.
What I'm looking for here is to confirm that the spark plug is getting spark and I do this with a dedicated spark tester (like an HEI spark tester).

The following tutorial will help you test the ignition system: How To Test The Ignition Coil Packs (GM 3.1L, 3.4L) (at: easyautodiagnostics.com).

Next, I remove the spark plugs and visually inspect them.

What I'm checking for are for cracks and/or carbon tracks and/or Oil filling up the spark plug well.
I also remove and visually inspect the spark plug cable and the ignition coil pack tower (that the spark plug wire is connected to) for visible rust, corrosion, wear and tear, etc.

If everything above checks out OK, I then do an engine compression test on the 'dead' cylinder and at least 2 others (to be able to compare compression values).

low cylinder compression is so often overlooked as a cause of a engine miss (misfire, 'dead' cylinder, etc).
What I'm looking for is to see if any one cylinder is too worn out. If it's too worn out, it will always have 15% lower compression that the highest compression reading of the four.

The following tutorial will help you test engine compression: How To Test Engine Compression (GM 3.1L, 3.4L).

Check Fuel Injector Resistance.

So, if you've reached this point, it's because you now know that the ignition system is not the cause of the engine miss (misfire, 'dead' cylinder, etc.), you've also eliminated the cylinder's compression and so you now can start testing the fuel injector.
Remember, the most important step is to find the 'dead' cylinder first! Finding the misfiring cylinder is half the battle to correctly diagnosing the engine miss (misfire, 'dead' cylinder, etc.) that's afflicting your 3.1L or 3.4l equipped car or mini-van!
Where To Buy The Fuel Injectors And Save
There's a good chance that you can buy the original AC Delco fuel injector online for a whole lot cheaper than somewhere local.
The following links will help you comparison shop for the fuel injectors:
Not sure if the above fuel injectors fit your particular 3.1L/3.4L? Don't worry, once you get to the site, they'll make sure it fits by asking you the specifics of your vehicle. If the above don't fit, they'll find the right ones for you.
More GM 3.1L & 3.4L Test Articles
You can find a complete list of 3.1L/3.4L tutorials in this index: GM 3.1L, 3.4L Index Of Articles.
Here's a small sample of the type of tutorials you'll find in the index:
How To Test The GM EGR Valve (Buick, Chevy, Olds, Pontiac) (at: easyautodiagnostics.com).
How To Test The GM MAF Sensor (GM 3.1L, 3.4L, 4.3L, 5.0L and 5.7L) (at: easyautodiagnostics.com).
GM 3.1L & 3.4L Ignition System Tests (this info is found at: easyautodiagnostics.com).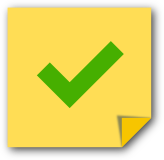 If this info saved the day, buy me a beer!