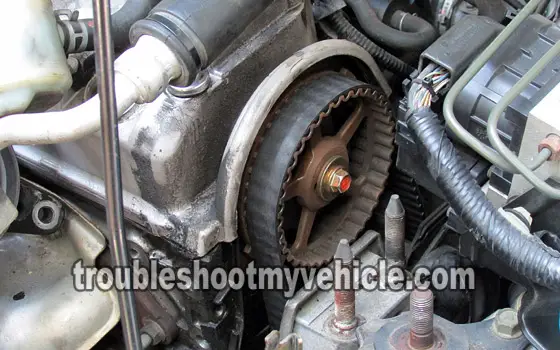 Checking to see if the timing belt on your Honda Civic has busted and thus causing a no start condition isn't a difficult thing to do. In this tutorial I will show you just how easy it is to check it.
IMPORTANT: Your 2001-2005 1.7L Honda Civic engine is an interference engine.
An interference engine is an engine whose intake and exhaust valves extend further into the combustion chamber than a non interference engine. This is good news when it comes to squeezing more performance out of the engine. The downside to an interference engine is that the valves will hit the pistons, when the timing belt breaks, and get bent/damaged.

You can find this tutorial in Spanish here: Cómo Verificar Si Se Reventó la Correa de Distribución (1.7L Honda Civic) (at: autotecnico-online.com).
TEST 1:

Checking Rocker Arm Actuation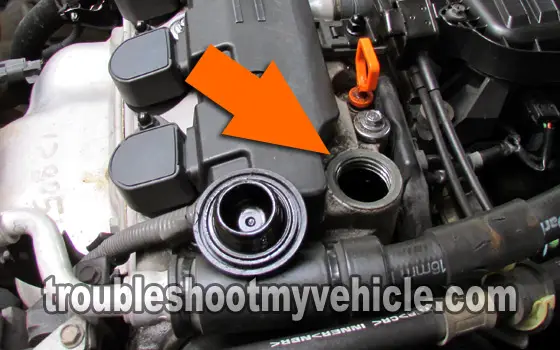 As you are probably already aware:
The timing belt turns the camshaft.
The camshaft in turn actuates the rocker arms.
The rocker arms in turn open and close the cylinder head valves.
When the timing belt breaks the camshaft will not turn. This in turn will lead to the rocker arms not moving up and down. So very first thing that we will look at is to see if the rocker arms are being actuated.
This is a very easy test and these are the test steps:
1

Remove the oil cap from your Honda Civic's valve cover (see photo above).

NOTE: Your Honda Civic's battery should be fully charged up before starting this test.

2

Have a helper crank your Civic's engine while you look down (thru' the oil cap hole) and see if the rocker arm (that's in view) moves up and down.

3

If the timing belt is NOT broken, you'll see rocker arm move up and down while the engine is cranking.
Let's take a look at your test results:
CASE 1: The rocker arm moved up and down as the engine was cranking. This tells you that the timing belt IS NOT broken.
Whatever is causing your Honda Civic's 'no start' condition isn't related to the timing belt.
CASE 2: The rocker arm DID NOT move up and down as the engine was cranking. This tells you that the timing belt is broken.
Replacing the timing belt is only the beginning of the repair due to the fact that your Civic's 1.7L engine is an interference engine. More specifically, there's a good chance that the you've got bent valves on your hands (that'll require removing the cylinder head to replace).