TEST 4:

Using A Chemical Block Tester (Combustion Leak Tester)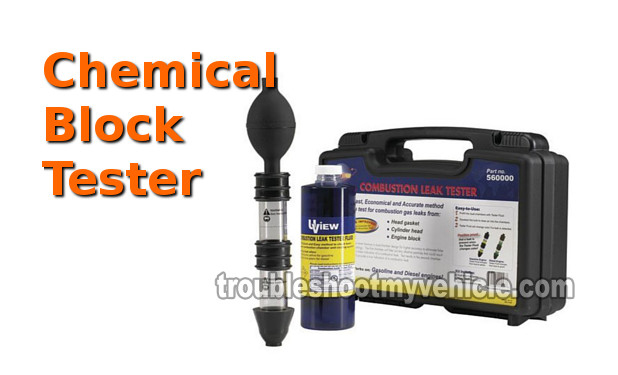 In the tough to diagnose blown head gasket cases a block test is the only way to confirm (or disconfirm) the problem.
Why didn't I start of with this test? Because TEST 1, TEST 2, and TEST 3 usually pin-point a blown head gasket condition in about 95% of the cases (not to mention you don't have to spend any $$ to do them). It's the remaining hard to diagnose 5% percent where the effort of finding a block tester is worth it.
In a nutshell, this is how a block tester works:
A blue liquid chemical, which is blue in color, is placed in the tester (see photo above).
The tester assembly is then placed on the open radiator neck (you may have to drain some of the coolant in the radiator since this tool needs to 'gulp' some of the air inside the radiator).
The rubber bellow is then squeezed to suck in the air up through the two fluid-filled chambers. As the air bubbles up through the fluid, it will cause a chemical reaction.
If the blue chemical turns yellow (for gasoline engines) then combustion gases are entering the radiator thus confirming a head gasket, a cracked blocked, or cracked cylinder head issue.
If the blue chemical doesn't change color, then you can conclude that you don't a head gasket, a cracked blocked, or cracked cylinder head issue.
You can buy one here:
Related Test Articles
There are several more 3.8L GM car or mini-van specific 'how to' tutorials that I've written for your troubleshooting and diagnostic benefit. The articles that are here in this web site, you can find them here: GM 3.8L Index Of Articles.
At easyautodiagnostics.com, you'll find the following articles:
How To Test The GM 3.8L V6 Ignition Coil Packs Buick, Chevy, Oldsmobile, Pontiac.

This article presents very simple and effective ON CAR tests of the ignition coil packs on the GM 3.8L V6 equipped engines (Buick, Chevy, Oldsmobile, Pontiac).

Testing the Ignition Control Module (ICM) Buick, Chevy, Pontiac, Oldsmobile 3.8L V6 engines.

This test will help you to pinpoint the problem to the ignition control module (ICM) or the crankshaft position sensor as the source of your car's NO START condition.

How To Test The MAF Sensor on 3.1L, 3.3L, and 3.8L Buick, Oldsmobile, Pontiac.

This article will show you how to test and diagnose a bad GM mass air flow (MAF) sensor on all of the early 90 thru' mid 90's Buick, Olds, Pontiac 3.1L, 3.3L and 3.8L V6 equipped cars (to be more specific: 89-96)
Reader's Real Life Case Studies And Solutions
In this section is input and feedback from all of the folks who have had a similar issue with their vehicle and found a solution. If you're one of them, I want to thank you for sharing your experience with all of us!
If you want to share your repair and/or diagnostic experience, you can use the contact form below.
Real Life Case Study 1
Vehicle: 2000 Buick Park Ave. (Base) 3.8L V-6, 172,000 miles
Trouble Codes: P0303 and P0304
Complaint: LOW COMPRESSION ON #3 AND #4 "...I lost a water pump going up a 6% grade incline at high speed and wasn't watching the temp. gauge. I used some Duraseal to overcome some coolant leak problems, but still had a 70 lb. compression reading on #3 and #4 and was throwing P0303 and P0304 codes..."

"...Another compression test gave the same results, and when we added a spoonful of oil (for a wet compression test) it only came up ten pounds, to about 80 psi. At that point, I figure that it may be a valve problem, a burnt seat or a bent valve, etc..."
Test Notes: "..The initial compression test indicated a problem and I wanted to believe a head gasket problem was the source of that loss of compression. But even after doing the chemical fix -? which worked - I still had loss of compression. With the wet test showing little improvement, the inescapable conclusion was that the valves were compromised..."

"...At that point I looked at the cost of paying someone to tear it all down, then magnaflux the heads and fix the bad valves and put it all back together: not a small amount. The problem is that even once you do that, if you do that, you then have a strong upper engine working on a 170,000 lower engine. The prospect is that then - as many times it has been seen - that later the lower end is blown out and you have to start all over again to do a ring job. Tilt!..."
Repair: REPLACED ENGINE "..I called the S** V***** area salvage yards to find a low mileage used engine in the L*** area. The salvage yard gave me a price of $1,500 to buy the engine AND install it. He used my existing plastic intake manifold, not the metal one on the '?new' engine, and got it to work..."
Advice: "...That is the key thing I learned. IF YOU ARE LOSING COOLANT OVER TIME, CHECK THE WEEP HOLE ON YOUR WATER PUMP FIRST. That is the first place to look. If I had done that and replaced the water pump when it was telling me it was about to go, I would have avoided all the time and cost of the repairs I incurred. But now I am even better off, in a way, with a low mileage engine to go with my already rebuilt tranny... "
Courtesy of: Dave Cramer
Notes: You can read Dave's entire post here: Dave's Post.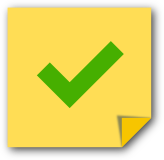 If this info saved the day, buy me a beer!