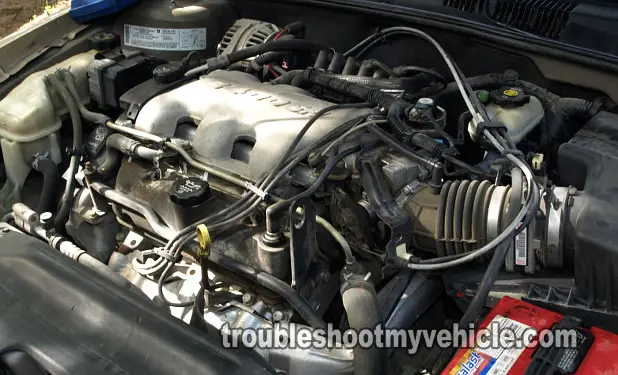 Testing for a bad fuel injector on the GM 3.1L and 3.4L engines can be a challenge, since the fuel injectors are underneath the upper intake manifold plenum. This article will show you how to test them using a simple multimeter. No scan tool is required for this test (although it does come in handy to read any diagnostic trouble codes in the computer's memory). How?
By showing you how to do an easy resistance (Ohms) test of the fuel injector with a multimeter. Also, this article is a part of a series of misfire condition troubleshooting articles for your 3.1L or 3.4L V6 equipped Chevrolet, Buick, Oldsmobile, or Pontiac car or mini-van and at the end of it, you'll find some links to other specific 3.1L & 3.4L misfire troubleshooting articles.
By the way, in case you're not sure where to start, I suggest reading the section: A Fuel Injector Troubleshooting Strategy first.
Contents of this tutorial:
Tools You'll Need:
Multimeter
Pen and Paper
Repair Manual

Symptoms Of A Bad Fuel Injector
As you're already aware, each cylinder needs 3 specific things to create power. These 3 are: fuel, air, and spark. It's the fuel injectors job to inject the gasoline that the cylinder needs.
When one (or more) fuel injectors fail, the engine is not gonna' run on all cylinders and you're gonna' feel it when the engine idles and especially when you give it gas (to move the car or mini-van).
Here are some more specific symptoms:
Rough idle.
Engine misfire under load (when you're giving it gas).
Bad gas mileage.
Fuel injector failure code present.

P0201: Injector #1 Control Circuit.
P0202: Injector #2 Control Circuit.
P0203: Injector #3 Control Circuit.
P0204: Injector #4 Control Circuit.
P0205: Injector #5 Control Circuit.
P0206: Injector #6 Control Circuit.

Misfire code present.

P0301: Cylinder #1 Misfire.
P0302: Cylinder #2 Misfire.
P0303: Cylinder #3 Misfire.
P0304: Cylinder #4 Misfire.
P0305: Cylinder #5 Misfire.
P0306: Cylinder #6 Misfire.
NOTE: On 1998 model year and newer, the PCM is able set specific fuel injector troubles codes (when they fail). Unfortunately, this rarely happens in real life. What you'll usually see will be a misfire trouble code instead of a bad fuel injector code.
Let's jump into the fuel injector test.
Where To Buy The Fuel Injectors And Save
There's a good chance that you can buy the original AC Delco fuel injector online for a whole lot cheaper than somewhere local.
The following links will help you comparison shop for the fuel injectors:
Not sure if the above fuel injectors fit your particular 3.1L/3.4L? Don't worry, once you get to the site, they'll make sure it fits by asking you the specifics of your vehicle. If the above don't fit, they'll find the right ones for you.
The Fuel Injector Test
The following test assumes that you have already removed the intake manifold plenum. If you don't know how to remove the intake manifold plenum, you may have to buy a repair manual (or research online), since the following test steps don't explain this procedure.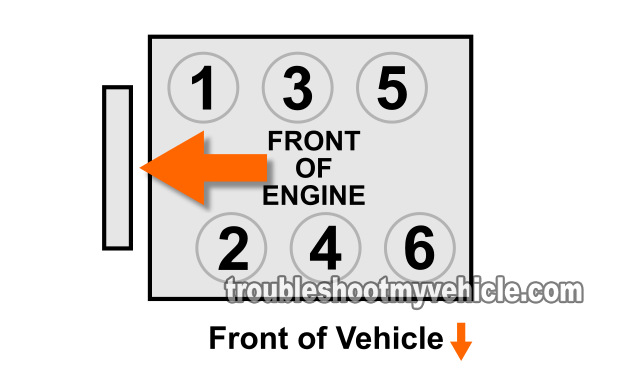 The car or mini-van's engine can not be hot. In other words, if the engine has been running for an extended period of time, you need to wait till it cools down. If the engine is completely cold, start it up and let it run for about 20 minutes to get it slightly warmed up.
If you have a scan tool, you can verify that the engine coolant temperature sensor reading should be no less and no more than 100° F.
IMPORTANT: read the section Important Test Precautions before attempting this test. This section will provide you with some very important suggestions you should take when you remove the upper intake manifold plenum.
OK, these are the test steps:
1

Disconnect all six fuel injectors from their electrical connectors. I recommend that you test all six fuel injectors so that you're able to find out what the average Ohms value is on all of them.

2

Once all of the fuel injectors are disconnected, test each one with your multimeter in Ohms mode. You'll do this by probing the male spade terminals inside the fuel injector with the multimeter's test leads.

3

It doesn't matter what color test lead you use to test either of the two fuel injector male spade terminals, the polarity of the Leads is not important when testing the resistance of the fuel injectors.

4

After verifying the resistance value, write it down on a piece of paper. Don' forget to write down what cylinder that reading belongs to.

5

For the moment, don't worry about what the resistance value should be of that fuel injector. Now, repeat test steps 1 through 4 on the remaining 5 fuel injectors.
OK, now we're gonna' interpret the results of your fuel injector resistance (Ohms) readings. Choose from one of the following CASES:
CASE 1: All of the multimeter resistance values are nearly identical. This result indicates that the fuel injectors are OK and are not causing the misfire code or condition.
Now, your vehicle may still be misfiring, so at the end of this article are links to other specific GM 3.1L and 3.4L that will help you to continue diagnosing your misfire condition on your Chevy or Buick or Olds or Pontiac car or mini-van.
CASE 2: One of the six multimeter resistance values is drastically different: Test all fuel injectors one more time, just to confirm the initial resistance values your multimeter registered. If they are the same as before, then the fuel injector that registered the different resistance value is bad. Replace the fuel injector.
If you'd like to save on the original AC Delco fuel injector(s), take a look at the section: Where To Buy The Fuel Injectors And Save.