If you're trying to nail down a hard to diagnose misfire condition or misfire codes and need to know how to do and interpret an engine compression test, you've come to the right article.
This tutorial will walk you thru' the engine compression tests as it pertains to troubleshooting a misfire condition that is lighting up the check engine light (and storing any of the misfire codes: P0300, P0301, P0302, P0303, P0304, P0305, P0306).
You'll also be able to find out if a compression problem is causing an engine no-start problem.
Contents of this tutorial:

You can find this tutorial in Spanish here: Cómo Probar La Compresión Del Motor (GM 3.1L, 3.4L) (at: autotecnico-online.com).
Tools You'll Need:
Compression Gauge Tester
Engine Oil
A Helper
Pen and Paper

Why An Engine Compression Test?
An engine compression test is one of the most important tests to perform when trying to solve a hard to diagnose misfire condition (or a rough idle condition).
If only one cylinder has below average compression (compared to the other 5 cylinders), that cylinder will not contribute to engine power and you're gonna' feel it.
Also, no matter what you replace, the misfire condition or misfire codes (P0300, P0301, P0302, P303, P0304, P0305, P0306) will not go away! Unfortunately, the engine compression test is one of the most overlooked misfire troubleshooting tests.
Now, testing the compression of each cylinder is usually done after verifying that each cylinder is getting spark. At the end of this article you'll find another test article (GM 3.1L and 3.4L specific test article) that'll help you to further test a misfire condition.
Which Compression Tester Should I Buy?
There are lot of engine compression testers to choose from and many places to buy them. I'm gonna' make two recommendations to you:
1) Which one to buy:  The engine compression tester that I have always used is the Actron CP7827 Compression Tester Kit. My only complaint about this engine compression tester is that it does not come with a case to store it in.
Engine Compression Gauge Testers

2) Where to buy:  You can buy an engine compression tester just about anywhere, but you'll end up paying more for it (especially at your local auto parts store). The above links will help you comparison shop. I think you'll agree it's the better way to save money on the compression tester!
TEST 1:

Dry Engine Compression Test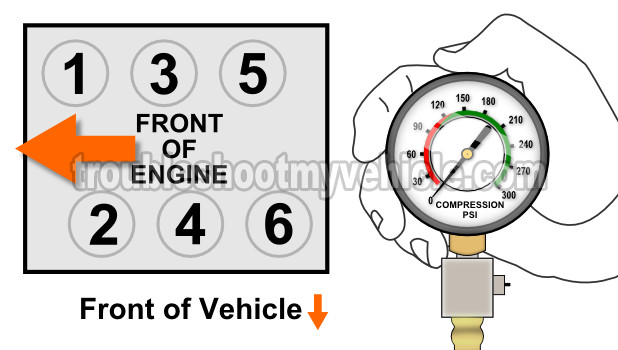 Testing the engine compression of the 3 cylinders that face the firewall of your 3.1L or 3.4L GM car or mini-van (Chevrolet, Buick, Oldsmobile, or Pontiac) can be quite a challenge, since removing those spark plugs is not the easiest thing in the world.
In most cases the alternator has to be removed to gain access to them. If you've never removed these spark plugs from your vehicle, I recommend buying a repair manual to brush up on the steps to do it.
NOTE: If possible, the engine should be slightly warmed up for this test, yet it can not be hot (technically: normal operating temperature) So, if the engine is completely cold, start her up and let it idle for no more than 10 minutes. If the engine has been running for a long period of time, let her cool down for about 1 hour.
OK, here's the test:
1

Disable the fuel and ignition system. It's important that no fuel is being injected and that no spark is being fired when doing this test.

You can easily kill these two birds with one stone by disconnecting all three of the ignition control module electrical connectors.

2

Remove all of the six spark plugs.

Be careful and don't drop any of the spark plugs. Dropping them could cause their Ceramic Insulator to break and this will cause a misfire.

IMPORTANT: Before disconnecting the spark plug wires, to remove the spark plugs, tag each one to identify where it goes. This will help you to connect the right spark plug wire to the right spark plug once you're done with the test.

3

Hand-thread the engine compression gauge into the spark plug hole that you've chosen to test first.

Do not use any type of tool to get it tight, hand tight is enough!

4

Once everything is set, have your helper crank the car or mini-van.

5

Once the needle on the compression tester gauge stops climbing, have your helper stop cranking the engine.

It normally takes about 10 seconds or engine cranking to get to this point. When the needle stops moving, you have reached the maximum compression pressure of that cylinder.

6

Record the reading on a piece of paper along with the cylinder the reading belongs to.

7

Repeat this exact same test on the remaining engine cylinders. The illustration above will help you to identify what cylinders you're testing.
Let's take a look at what your test results mean:
CASE 1: No compression in 2 or more cylinders. This test result tells you that the engine has serious internal problems.
The most common issues would be: Broken timing chain. Or a blown head gasket. Or the engine threw a rod. To test for a blown head gasket, see this tutorial: How To Test A Blown Head Gasket (GM 3.1L, 3.4L).
CASE 2: Low compression in one or more cylinders. To a certain point, it's normal for the compression to vary a little between cylinders (as the engine accumulates thousands of miles). But if these values vary too much, then you're gonna' have a bonafide misfire on your hands.
So, your next step is to do the math and find out if these compression values are within normal parameter or not. Go to: Interpreting Your Compression Test Results.