Throttle Position Sensor Circuit Descriptions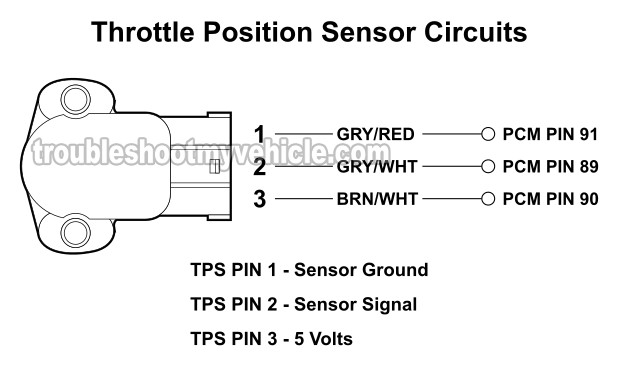 The throttle position sensor (TPS) on your 1996-1999 3.8L V6 Ford Windstar has 3 wires coming out of its electrical connector. Here is a brief description of each:
| # | Cable | Description |
| --- | --- | --- |
| 1 | GRY/RED | Ground |
| 2 | GRY/WHT | TP Signal |
| 3 | BRN/WHT | 5 Volts |
NOTE: You'll notice some of the wires are described with two colors divided by a forward slash (/). In these cases, the color description is letting you know that the wire has a solid color with a stripe in it. For example BRN/WHT means: brown with a white stripe.
BRN -Brown.
GRY -Grey.
RED -Red.
WHT -White.
Where To Buy The TPS And Save
The following links will help to comparison shop for the 1996-1999 3.8L V6 Ford Windstar TPS:
Not sure if the above TPS is the correct one for your Ford Windstar? No worries, once you get to the site, they'll ask you for your vehicle's specific information and check that that fits. If it doesn't, they'll find you the right one.
More Ford 3.8L Tutorials
You can find a complete list of 3.8L Ford tutorials in the following two indexes:
Here's a sample of the tutorials you will find in the indexes: