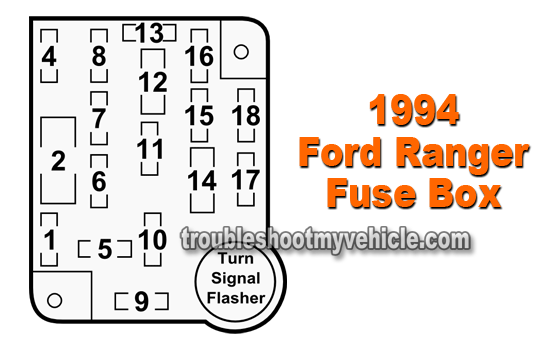 In the table below you'll find the fuse location and description of the fuses of the fuse box on 1994 Ford Ranger.
The fuse box is located on the driver side of the dash.
For your viewing and printing pleasure, you can download the PDF of this page here:
You can find the 1993 Ford Ranger fuse box location and description table here:
1994 Ford Ranger Fuse Box
#
Amp
Fuse Name/Description
1
15 Amp
2
6 Amp
CIRCUIT BREAKER

Windshield Wiper Motor.
Interval Governor (Wiper/Washer).
Multi-Function Switch (Wiper/Washer Switch).

3
-
NOT USED

4
15 Amp
5
15 Amp

Turn Signal Flasher.
Daytime Running Lights (DRL) Module.
Park/Neutral Switch (w/ Automatic Transmission).
Backup Lamp Switch (w/ Manual Transmission).
Brake Warning Diode/Resistor Assembly.

6
10 Amp

Cruise Control Amplifier.

7
15 Amp

Electric Shift Control Switch (w/ Electric Shift Only).
Electric Shift Control Module (w/ Electric Shift Only).
Instrument Cluster.
Low Oil Level Relay.
Warning Chime Module.

8
20 Amp
9
30 Amp
10
15 Amp

Stop Light Switch.
Headlight Switch.

11
15 Amp
12
20 Amp
CIRCUIT BREAKER

Flash-to-Pass Switch (Beam Select Switch).
Cigar Lighter.
Power Lumbar Support Switch.
Left Power Lumbar Switch.

13
10 Amp

Instrument Illumination.
Interior Light System.

14
30 Amp
CIRCUIT BREAKER

Master Window Control Switch.
Right Front Window Switch.

15
20 Amp
16
20 Amp
17
10 Amp

A/C-Heater Control Assembly.

18
15 Amp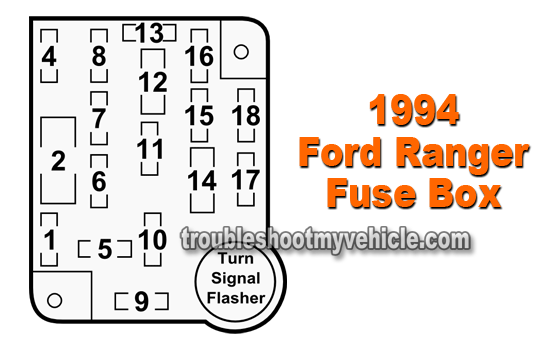 TEST-Donation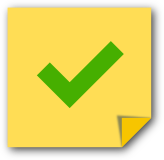 If this info saved the day, buy me a beer!