Problems With The Alternator's Decoupler Pulley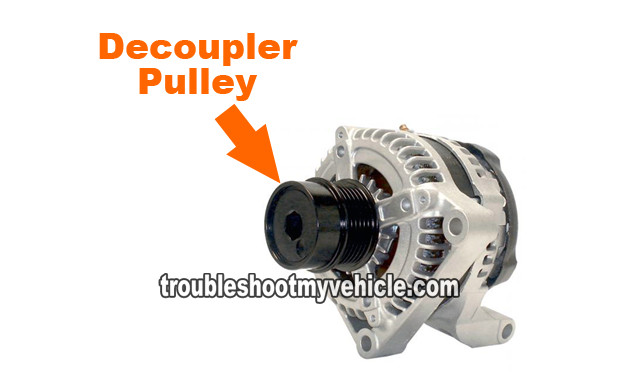 The alternator on your 3.3L Chrysler mini-van has a pulley with a clutch in it.
According to Chrysler, this decoupler pulley (as they like to call it), 'is a one way clutch type pulley, which is designed to help reduce belt tension fluctuation, fatigue loads, noise and has a low sensitivity to electrical load '.
This bad boy (the decoupler pulley) is one of the most problematic components of the alternator and the most common complaint is the decoupler pulley making noise.
The noise can range from:
Loud clunks.
'Metal to metal' grinding sound.
Belt squeal.
Here are some of the specific noise complaints from a defective decoupler pulley:
A loud 'clunking' noise (can also be described as a 'knocking' sound) when in drive and idling (for example: at a red light).
Clunking sounds coming from engine compartment with the A/C on or with any other electrical load (like the headlights).
Clunking (knocking) sound get worse as you accelerate the engine/vehicle.
A low pitch squealing noise on start up that goes away after a few seconds.
A squealing noise a few seconds after the engine is turned off.
A mechanics stethoscope can be used to diagnose the decoupler pulley and if found to be the cause of the noise, the alternator needs to be replaced as a unit.
Where To Buy The Alternator
Normally, I would recommend buying your alternator online because it's a whole lot cheaper but in this case, my suggestion to you is to buy it from your local auto parts store even though it'll cost a bit more.
The main reason why is that if you suspect you have a defective alternator right out of the box (and believe me, this happens with this type of unit), you can have your local parts house test it and warranty it for you on the spot.
If your online-purchased alternator turns out defective out of the box, you'll have to mail it back and you're out of more time and possibly money.
More 3.3L Chrysler Mini-Van Test Articles
If this tutorial helped, you might be interested in the others found here: Chrysler 3.3L Index Of Articles.
Here's a sample of the articles you'll find in the index:
How To Test The Coil Pack 3.3L, 3.8L Chrysler, Dodge, Plymouth (1990-1998) (at: easyautodiagnostics.com).
How To Test The Coil Pack 3.3L Chrysler, Dodge, Plymouth (1999-2001) (at: easyautodiagnostics.com).
How To Test The Coil Pack 3.3L, 3.8L Chrysler, Dodge, Plymouth (2001-2008) (at: easyautodiagnostics.com).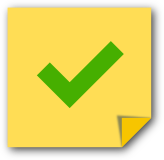 If this info saved the day, buy me a beer!