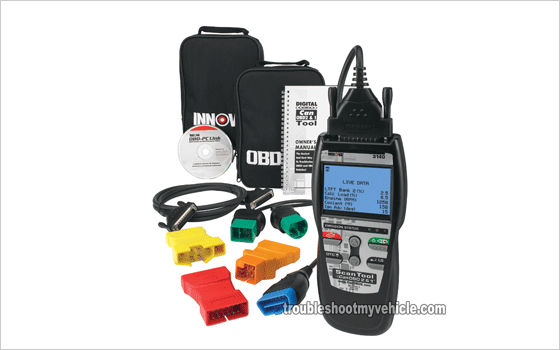 A scan tool is a must have tool if you want to diagnose a check engine light is 'On' condition, on your vehicle.
Since there are so many to choose from, this article will review the Equus 3140 Innova Diagnostic Code Scanner for OBDI and OBDII vehicles.
Contents of this tutorial:
Important Features
Let me jump into the most important features of this tool right off the bat:
1

If your vehicle is 1995 or newer (which means it's OBD II equipped), this scan tool will help you read diagnostic trouble codes and let you see Live Data from the PCM.

2

If your vehicle is OBD II equipped, you'll be able to check to see if the Emission Monitors (known as the I/M Monitors or Readiness Monitors) have been set or not. As you may already know, if they're not set... you'll have to drive the vehicle some miles to get them to complete before going or returning to the State Emission's Inspection Station.

If you've ever wondered what I/M stands for, it's part of the phrase Enhanced Inspection and Maintenance.

3

If your vehicle is 1994 and older (which means it's OBD I equipped) GM, Chrysler, Ford, Jeep or Toyota, you'll be able to read diagnostic trouble codes.

4

You can connect the Equus 3140 to your PC or Laptop (with the included cables and software) to generate, print, and save detailed diagnostic reports. This feature also lets you keep the Equus 3140 current since you can update it via the Internet.

5

For the advanced DIY'er or automotive tech, you can capture and display freeze frame data that will help you pinpoint and troubleshoot problems.

6

This scan tool will let you read Generic Codes (P0, P2, P3, and U0) and more importantly Manufacturer Specific Codes (P1, P3, and U1). The capability to read Manufacturer Specific Codes is critical, since the Generic Codes really aren't very helpful.

7

For the advanced DIY'er or automotive tech, the Equus 3140 will let you read OEM Enhanced & Transmission Codes
Who Is This Scan Tool For?
At around $190 (US), the Equus 3140 Innova Diagnostic Code Scanner for OBDI and OBDII Vehicles will help the serious Do-It-Yourselfer (DIY), the auto tech and the average car owner troubleshoot older OBD I (GM, Ford, Chrysler, Jeep, and Toyota vehicles) and newer OBD II equipped vehicles.
In no particular order, this Scan Tool would help:
1

The weekend mechanic that doesn't get too involved with the car repair but yet tinkers enough with it that a scan tool is starting to feel like a need and not a want.

2

The Do-It-Yourselfer that's tired of having to run down to AutoZone to get his or her car scanned for codes.

3

The Do-It-Yourselfer that has some or a lot of experience under the belt troubleshooting check engine light problems but would never consider buying a $2K to $5K Professional scan tool.
Continued in the next page...